The SlideTeam Blog

All About PowerPoint, Presentations & Life
Upwork —previously known as oDesk — has transformed the "Unregularized Freelancing Industry Into an Organized Sector."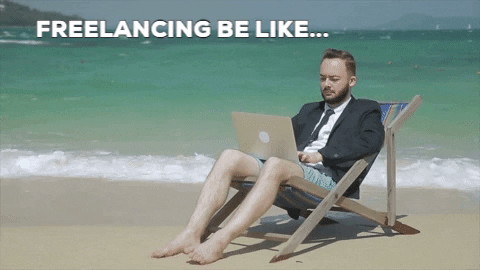 This world's most trusted freelancing platform has enabled companies and individual clients to find the best talent worldwide. Thus, unlocking new opportunities for freelancers with diverse skill sets, from translation, writing to App designing.
What is Upwork?
Upwork — a Freelancing site — brings together businesses and independent professionals to work on projects.
In simple words, Upwork is a marketplace of job opportunities where clients create job posts and freelancers apply on them.
Upwork was launched in early 2015 Under the Name of oDesk.
But, in May 2015 changed its name to Upwork after acquiring the domain Upwork.com.
The Story Behind Upwork and Its Complete History
The online freelancing industry has taken the world by storm. It has provided talented flocks with endless opportunities to earn passive income while working in their pajamas at home.
The industry's most prominent force, Upwork, aims to connect businesses with qualified freelancers for the task.
When Upwork arrived on the scene, it marked a new era in the online freelancing sector. 
The brains behind Upwork include a group of entrepreneurs:- The Former CEO of freelancer.com, one of Samasource's CO-Founders, and Seven Founders From the Renowned Outsourcing Firm Elance-oDesk.
The co-founders of Elance, which the FREELANCER Group bought in December 2013 for $1.7 billion, were among the first people to arrive at Upwork's headquarters in Mountain View, California.
They had already built a new platform for six months before the company was established.
The founders felt they could tap into a more than $400 billion market by curating a platform to bridge the gap between employers and remote workers.
This new platform would provide the means to connect employers globally with freelancers that were available for hire whenever they needed them, no matter where their location.
Thus, Upwork was born.
Upwork got its first significant boost by securing $16 million in seed funding from venture capitalists Andreessen Horowitz and other top-tier individuals.
The co-founders of the world's most popular freelancing platform, oDesk, were part of this round.
On June 17, 2015, Upwork held its official launch in San Francisco. In the same year, the company raised a further $40 million in funding.
On September 10, 2018, it was announced that Upwork is to be acquired by the $1 billion outsourcing firm Elance for $750 million in cash and stock.
Upwork Business Model
Upwork operates as both a marketplace and an administrative hub. Its marketplace lets employers and freelancers connect to discuss projects, negotiate rates and do business.
It also provides the necessary tools for freelancers to manage their profiles, create bids, and track jobs.
On the other side of the spectrum, it provides job distribution for companies looking for freelancing talent and works as an intermediary between them and the freelancers.
Upwork's core business model is rooted in charging a 10% service fee on all money freelancers earn through their work.
However, Upwork is currently transitioning into a subscription-based model.
According to Stephane Kasriel, CEO of Upwork, the company is moving towards greater automation and reducing its reliance on human intervention.
Upwork has experienced tremendous growth since it was established.
The company now has over 12 million freelancers and 500,000 companies registered on the platform. This has led to the creation of over one million jobs and close to $1 billion in freelancer earnings.
Reviewing Upwork's Original Pitch Deck
The most important part of a successful pitch deck is the data. The numbers must be accurate, and the comparisons must be factual and proven.
Second, it needs to be aesthetically pleasing.
The third factor is the story that connects with the audience. 
Typically, a pitch deck is accompanied by additional documents, such as statistics and graphs, which help solidify the story further.
"All These Boxes Are Ticked by the Founders of Upwork in Their Original Funding Elevator deck."
To discuss in detail, let's scroll down to know the key slides in the Upwork pitch deck:-
Slide 1: The Cover Slide
Upwork makes a bold statement in its title slide by revealing its agenda of building this freelancing platform, "Creating a World of Work Without Limits."
Overall, the font, image, and theme of this slide connect with the concept of freelancing.
Upwork Original Pitch Deck Template
Slide 2: The Mission and Vision Statement of Upwork
This slide is dedicated to putting forth the Mission and Vision statement of Upwork.
The mission statement provides a short description of an organization's purpose, and it defines the scope of its existence and what it intends to do or achieve in the future.
The vision statement describes an organization's most likely long-term future when its activities are at their highest level and most successful.
Upwork Original Pitch Deck Template
Slide 3: Upwork at a Glance - Financial Summary
The performance of a business is usually measured by its revenue. The amount of money that it brings in from sales during an accounting period, usually a quarter or a year.
Other metrics include EBITDA, Client Spend Retention, and more. In a nutshell, a solid Financial Summary slide will contain all of the financial metrics relevant to your business's success, making it very clear whether or not the business is delivering on its promises.
The Upwork's Financial Summary slide gives investors an overview of the business's finances in a glanceable format using bar graphs.
Upwork Original Pitch Deck Template
Slide 4: Upwork Investment Highlights
Upwork in this slide round-up the key highlights of investing in the Upwork platform.
These include a Large Market, Predictable Business Model, Competitive Moats, Growth opportunities, Experienced Management Team, etc.
The slide features icons relevant to investment highlights, thus making the deck visually engaging.
Upwork Original Pitch Deck Template
Slide 5: Delivering Significant Value to Both Constituents
The slide is divided into two halves.
The first half mentions the benefits of the Upwork platform to the freelancers (Value For Freelancers), whereas the second half is dedicated to the perks the clients will get with Upwork (Value For Clients).
For instance, the Value for Freelancers comprises Insights on Skills in Demand, Get Paid on Schedule and in a Safe Manner, Get Hired Quickly, and more.
The second half is is "The Value for Clients" which Includes Fast Access to Talent, Cost-Effective Projects, etc.
Upwork Original Pitch Deck Template
Slide 6: Bringing Efficiencies to Labor Marketplace
Through this slide, Upwork demonstrates the extensive research before proposing its investment opportunity to potential investors.
For example, the Average Time to Hire is 31 Days, but with Upwork, it's just 3 Days.
The Access to Talent is Limited with the Old Method, but in the case of Upwork, one can easily zero down on the right talent anywhere in the world.
Like this, Upwork compares The Old Way with Upwork to illustrate how this freelancing platform has streamlined the labor marketplace.
Upwork Original Pitch Deck Template
Slide 7: Upwork Product Offerings
This Upwork slide makes the investors aware of their various product offerings for clients and freelancers.
There are four subscriptions packages of Upwork.
The first one is basic, where the Clients will be charged 3% of the total billing, and for Freelancers, the fee is 20% for the first $500.
The other packages are Plus, Business, and Enterprise.
The features of each package are highlighted in this slide.
Upwork Original Pitch Deck Template
Slide 8: Our Bussiness Model
Upwork's business model describes How They Create, Deliver, and Capture Value.
It comprises all the key components of the business in an integrated way - clients, freelancers, technology, revenue streams, and costs.
The key takeaway from this slide is that 89% of Upwork's revenue is from its four subscriptions models, while 11% is from its managed services.
Upwork Original Pitch Deck Template
Slide 9: Large Client Base with Room For Expansion
Through this slide, Upwork exhibits that its userbase has surged significantly from 55 MM (thousands) in 2014 to 124 MM (thousands) in 2019.
The growth of Upwork's user base is represented through a well-drafted bar graph.
On the right-hand side, the key takeaways interpret the graph and present important details to the clients.
Upwork Original Pitch Deck Template
Slide 10: Grow Upwork Awareness and Acquire Users
The slide states the various means that Upwork is employing to increase its platform awareness & acquire users.
These means include Word of Mouth, Online Marketing, Radio, Streaming Video, and Out of Home.
Upwork Original Pitch Deck Template
What's Next?
On February 24, 2017, Upwork announced that it would launch a blockchain initiative.
This is among the first attempts of connecting freelancers, clients, and workforce providers to a blockchain-based platform.
The aim is to build an application that enables greater security and privacy over transactions.
Even Though the Final Product Has Yet to Be Unveiled, Upwork's CO-Founder and CEO Stephane Kasriel Spoke About It in the Official Press Release:
In a Few Years, Blockchain Could Well Be the Norm for Freelance and On-Demand Transactions. an Immutable, or Provable, System That Maintains a Continuously Growing List of Data Records Hardened Against Tampering and Revision Offers the Unique Ability to Build a Resilient and Trusted Global Platform for Many of Today's transactions.
The blockchain application will be the medium by which freelancers and clients can communicate and engage in contractual relations.
Current market research indicates over 25 million freelancers globally, which is one-third of the total workforce.
The industry generates over $1 trillion annually, making it one of the fastest-growing markets in recent history.
However, to date, there is no immutable and secure platform available for managing freelance transactions, and this is what Upwork aims to solve by developing a blockchain-powered system.
Upwork's new initiative is based on the principles of decentralization and peer-to-peer interactions, which have been a crucial part of the evolution of many industries.
Moreover, Blockchain allows for a high level of transparency trust and greater security. This will be especially valuable for the freelancer community, as it has struggled with onerous payment procedures and online security issues.
Upwork's CEO Adds More Explanation on the Matter:
 Blockchain is a Transformational Technology, Which is Driving Massive Innovation in Financial Services, Real Estate, Healthcare, and Many Other Industries. Yet in Order to Bring the Benefits of Blockchain to a Truly Global Network of Buyers and Sellers, There Are Several Challenges That Must Be overcome.
The company believes that a secure blockchain system will allow for an increased level of automation and efficiency. Thus, allowing for a greater number of transactions to take place simultaneously.
Upwork also announced that it would be joining the Enterprise Ethereum Alliance (EEA). It is a platform dedicated to providing education for collaborative efforts between large corporations, startups, and experts in the field of blockchain technology.
Let's Put The Lid On
Upwork has been a mainstay in the freelance industry for the past seven years. So, it's an honor to share the original pitch deck that helped them translate a startup idea into a global platform.
The company is constantly innovating on behalf of freelancers and clients alike, but we think you'll be surprised by how much they've accomplished since day one, thanks to the funds they acquired from their investors.
Download Upwork's original pitch deck here at Slideteam.
Get the Membership Only for $49.99 and access ten global leaders' presentations, from Apple, Slack, to Airbnb.
To Know More, Speak to Our Technical Support at 408-659-4170 or Inbox Your Query at [email protected] - You'll Receive a Fast Response.