All About PowerPoint, Presentations & Life
In this digital realm, we spend the majority of time looking at screens — T.Vs., smartphones, and desktops — these days.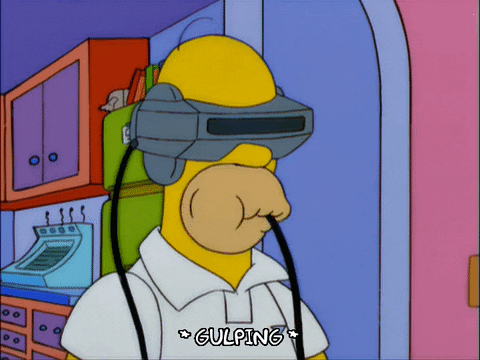 Virtual reality is a revolutionary technology that changes how we interact with the screen, making it more exciting and interactive. 
With Virtual Reality powered headsets, our mind can transport to a computer-generated world without actually stepping out of the house. 
Thanks to Virtual Reality, You Can Experience Life Underwater, Even When You Feel Scared to Dive Into a Swimming Pool... Wow!
Defining Virtual Reality
The Incredible Thing About the Technology is That You Feel Like You're Actually Present in Another Place With Other People. People Who Try It Say It's Different From Anything They've Ever Experienced in Their Lives, Said Founder of Facebook- Mark Zuckerberg
Virtual Reality or V.R. is an artificial environment designed by software and presented to the user in a manner it seems real. 
Often such an environment is created using computer programming, composed of 360-Degree Spherical videos. 
Let's Toss a Quick Statistics:-
DID you know the global virtual reality industry to attain the mark of $12 Million by 2024?
Which Sectors Are Disrupted by V.R. Technology?
Right from manufacturing, healthcare to workforce development, just about every sector embraces the limitless capabilities of virtual reality with open arms. 
The use of virtual reality in these sectors includes training simulations for production operatives, surgeons, and immersive teaching experiences within a classroom. 
VR-enabled headset supplies include H.T.C., Sony, and Oculus, along with emerging Chinese Vendors supplying these headsets to training and educational facilities. 
History of Virtual Reality
Many probably perceive that virtual reality is a recent trend, right?
Think again. 
Surprisingly, the concept of V.R. has been around us for decades. 
In the 1950s, cinematographer Morton Heilig had envisioned a theater experience that would stimulate all the senses. 
Then, in 1960, Heilig built the vision prototype, termed Sensorama. It had odor emitters, a moving chair, stereo speakers, and a stereoscopic display.
The first virtual reality head-mounted display was invented in 1968. 
A lot happened between, but let's fast forward this to the 1990s, and we have sci-fi Hollywood blockbusters like Matrix. 
In 2007, Google Street view was launched. Facebook bought Oculus — V.R. Headsets, Games, and Equipment manufacturer — for Approx. 2 million.
VR is a Way to Escape the Real World Into Something More Fantastic. It Has the Potential to Be the Most Social Technology of All Time, Said Palmer Luckey, Founder of Oculus Rift
Two years later, Google invested $500 million into Magic Leap. 
It is believed that in the coming decade, the V.R. technology will boom in popularity across sectors and worldwide. 
Virtual Reality Post COVID-19
The ongoing pandemic has significantly fueled the adoption of V.R. technology as businesses have turned to remote work. 
The overall global spending on A.R. headsets, services and software, including the purchases made by consumers, rose to $12 billion, about 50% from 2019. 
V.R. gained popularity during lockdowns as many tech companies actively considered this technology for efficient collaboration.
The scattered team can put on headsets and group in a virtual environment for better collaboration. 
Regarding the purpose of the meeting, the virtual space could be a conference room or any environment.
Suppose a meeting is to discuss the design of a car. In that case, the virtual meeting could be people standing around the car, opening the doors, rotating it, and exploring the interiors in detail. A VR headset such as Oculus is best-suited for these meetings. 
Companies are rapidly using VR technology for educational purposes. Their workforce can acquire technical expertise or master a new profession without leaving the property. 
The global lockdowns have certainly developed a great interest in VR-powered mobile Apps. 
Virtual reality is popular among retail businesses as well. They are exploring this technology and utilizing it to the full extent. 
For example, a fashion App with a cloth-fitting feature creates a 3-D model of the person to help them choose the right fit without actually trying it out. 
The Next Evolution of VR Would Be Where You Participate Physically in That VR World. and Not Just Sitting Down; if You're a Quarterback, You Actually Get to Throw a Football, and You Can Interface With the Team, Said Nelson Gonzalez, CO-Founder of Alienware
How to Create a Stellar Pitch Deck Presentation for A V.R. Startup?
Ready to take a plunge into the magnificent world of V.R.? 
But, you need funds, RIGHT? For that to happen, invest time and effort into designing a killer presentation that impacts the angel investors minds.
If you think V.R. startup presentations are all fascinating images, then you are all wrong. 
To obtain the financial backing of venture capitalists and angel investors, you need to PITCH the business idea in a way that sounds engaging with Insightful Statistics, Graphics, and So Much more. 
Because then only you will come close to raising money for your virtual reality startup, otherwise you, fortunately, be a part of an entrepreneur community that hadn't got the chance to transform their idea into reality. 
But, don't you worry, as here at SlideTeam, we have invested hours into research and signing to devise an impressive pitch deck that will open floodgates of funds for your startup. 
So, with no further ado, let's learn about the essential slides we have included in our 100% Editable, Ready-to-Download Virtual Reality Pitch Deck:-
#1 First Impression is the Last 
This pitch deck template designed by SlideTeam starts with a bang.
The details included in the slide are the "Name of the Company," "Nature of the Business (Virtual Reality Business)," and "Purpose of the Presentation (Pitch Deck)." 
The high-quality image on the left-hand side is not distracting and has a calming influence to begin the presentation. 
The cover slide is fully-customizable, professionally designed, and 100% compatible with Google Slides. 
Download Virtual Reality Business Pitch Deck
#2 A Holistic Table of Contents Slide
The entire structure of the presentation or simply what's included in this presentation is presented with a well-defined table of contents slide.
 The format of this slide is simple yet communicates the real purpose of this investor deck.
The text font and color scheme can be edited as per the brand personality. 
Download Virtual Reality Business Pitch Deck
#3 Global Statistics to Gain Investors Attention Slide
Get the eyes-rolling top-bottom and left-right with a slide that provides all the fascinating statistics around virtual reality. 
The V.R. market growth accelerated at a tremendous rate of 24% CAGR, and North America Contributed to 32% of That growth. 
To make such a slide, extensive research must add statistics that communicate a strong message to the prospective audience base.
Download Virtual Reality Business Pitch Deck
#4 Virtual Reality Market in North America Slide
Virtual reality technology has seen remarkable adaptation in the North American market, described through this well-crafted slide. 
One bar graph on the right-side defines the Market Size of Virtual Reality in the U.S.A., Canada, and Mexico.
 The slide presents critical insights on the left side, such as that North America Contributed to 22% of the Overall Virtual Reality Market Growth in 2020. 
Download Virtual Reality Business Pitch Deck
#5 Attractive Opportunities in the Virtual Reality Market Slide 
This is another information slide power-packed with statistics and data that plays a crucial role in winning over the trust of angel investors and venture capitalists. 
This slide presents a clear of where the virtual reality market is headed. 
For instance, the consumer application segment amounts to a 53.9% Share of the V.R. Market in 2020. 
On the left side, a world map shows where virtual reality technology has a dominant foothold.
Download Virtual Reality Business Pitch Deck
#6 SWOT Analysis of the Virtual Reality Industry Slide
This slide is an insightful presentation of the Strengths, Weaknesses, Opportunities, and Threats of the entire virtual reality industry. 
A SWOT analysis evaluates both the positive and negative factors interacting with the industry to provide potential investors with enough information to make an informed decision.
 The slide is visually divided into four parts, with each aspect from Strengths, Weaknesses, Opportunities, and Threats explained in bullet points. 
Download Virtual Reality Business Pitch Deck
#7 Addressing the Pain Points Slide
Now, we are at the business end of the investor presentation as we round up the pain points or the real reason the business was launched.
This slide illustrates the current state of the V.R. market, how bad it is without your company, and the solution. 
The pain points listed in this slide will keep your audience engaged and excited. The problems or pain points help the audience to relate, and the more related they are, the more invested and interested they become. 
If they feel the pain of the problems, they will experience relief from your solution. Your excellent business, product, or service to the rescue!
Download Virtual Reality Business Pitch Deck
#8 Competitive Landscape Slide
The agenda of this competitive landscape slide is where the company stands among its market rivals.
This slide has an impressive layout for summarizing your company's edge in terms of price, entertainment, and educational value.
Customize the font and text color to make your presentation feel unique and unforgettable as your brand. 
A brilliant visual display of informational metrics will be easier to digest than tossing up random numbers. 
Download Virtual Reality Business Pitch Deck
#9 Business Model Slide
Without the business model slide, your investor deck is incomplete. It presents an overview of the business plan to potential investors in the room.
The aim is to articulate a story and engage with the audience to leave a stellar impression. 
The three essential elements of a business model are the Expenses, Revenue Stream, and Target Audience.
In simple words, the slide explains how the business works without providing too much information. 
Download Virtual Reality Business Pitch Deck
#10 "Why To Invest" Slide
Once you have put forth enough data and information to suggest that the market of virtual reality is booming, and this is expected to continue in the future. 
Mention the problems, points, and solutions. 
But now it's time to "Hit the Road When Iron Is Hot" with a Why to Invest slide. Here, you have to jot down valid reasons that make the investment lucrative. 
This slide gives four big reasons to invest. 
One is Attractive Returns, the second is Strong Shareholders Alignment, and the other two are First Mover Advantage and Unique Expert System. 
Each reason is described with bullet points to make a strong case for investment in your company.
Download Virtual Reality Business Pitch Deck
#11 The Leadership Team Slide
The leadership team slide has an influential role in the investor deck. How you present, it would be the difference between deal or no-deal.
In this slide, the key members involved with the company's success are recognized with their professional picture and a brief that sheds light on the experience and prior accomplishments of each one.
If possible, highlight the range of skills amongst the leadership group. 
Download Virtual Reality Business Pitch Deck
#12 The Go-to-Market Strategy Slide
Finally, we have the Go-to-Market Strategy slide.
It provides a glimpse of your company's strategies to grow the business, eventually acquire new customers, and stay competitive in the market. 
For instance, the company would participate in trade shows and conferences to promote its products.
Download Virtual Reality Business Pitch Deck
‍Leading Pitch Deck Agency - Pitch Deck Design Services for Startups
Communicate your business idea effectively and win the trust of the prospective investors with a comprehensive, tailored pitch deck that echoes with future endeavors.
Our team of highly-qualified research analysts, copywriters, and designers could be the difference between walking out of the door empty-handed and winning an investor opportunity. 
We also have a vast collection of 2+ Million Templates that will save your time while reflecting the brand style. 
So, Why Think or Think?
Reach Out to Us at 408-659-4170 or [email protected] to Translate Your Brand Story and Message Into Visually-Appealing Slides That Will Engage With Your audience.