All About PowerPoint, Presentations & Life
With 184 million reviews worldwide, Yelp is among the most trusted customer testimonial platforms that allow users to review small & large businesses. Later, in this article, we will review Yelp's Original Pitch Deck.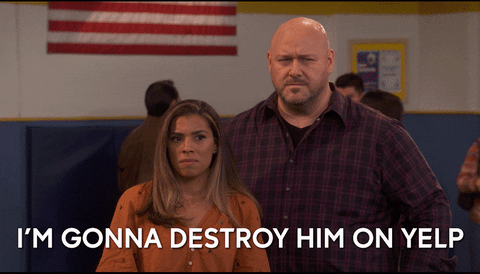 Yelp is competing with giants such as Facebook and Google Reviews. 
According to Alexa, Yelp is on the 44th spot for the most visited websites in the United States geography. 
Another survey revealed that approx. 45% of the customers will once check Yelp before visiting the physical outlet of any business. 
Yelp receives more than 178 million unique visitors worldwide over desktop, mobile, and App. 
Yelp: How it Started?
As a Kid, I Had This Fantasy of Starting a Company. I Looked at the Entrepreneur Column in Forbes. I Looked at It Every Month and Thought, I Want to Be That Guy. said Jeremy Stoppelman — Founder of Yelp
There Are No Failures, Only Quitters, said Russell Simmons ― Former CTO of Yelp. 
In the year 2004, two former employees of PayPal —Jeremy Stoppelman & Russel Simmons — bagged funding of $1 million for "An Email Campaign" that enabled friends to directly swap business reviews. They termed it "Yelp." 
The entrepreneurial journey of both these software engineers is incredible and inspiring. From working at PayPal to successfully launching their venture is a real example of how creativity and sheer dedication can conquer big things in the business world. 
Continuous Evolution Is The Recipe of Yelp's Success 
From the early inception of Yelp, it transformed largely ― from being an email recommendation service for local businesses in San Francisco to a globally renowned customer testimonials website. 
By 2008, they engulfed the Majority of the United states. 
Due to the enormous success in the US, they decided to expand their service worldwide, starting with Canada. 
In the next couple of years, Yelp performed tremendously to become one of the most popular social networking sites or a local business search engine ― where people can search anything to everything, from a local beauty salon to, dentist to a restaurant. 
Co-Founders Parting Ways 
After successfully setting up the company and establishing its market dominance, Russel bid farewell to Yelp in 2010. 
Several sources suggest that Russel wanted some time to explore the world's horizons and visit places he always had on his bucket list. 
Russel still has a significant amount of shares in the company and is serving as a consultant. 
Jeremy, however, remains to be CEO of Yelp. There are ongoing media trials of the relationship conflict between Jeremy and Russel, but there is a lack of evidence to throw weight behind such a claim. 
Today, Yelp Has Better Fiscal Revenue Than Twitter, Snapchat, or Even Facebook. 
As of 2019, the company's market capitalization is $3 billion, and this number will scale in the next few years. 
The company has always embraced emerging technologies like AI for improved services.  
The Funding Story of Yelp
The aggressive growth of Yelp can be attributed to its incredible success in fundraising. 
The company has raised $6 Million from six funding rounds, the latest being the Series E round on 27th Jan 2010. 
Yelp majorly receives the funding of six investors, with Elevation Partners & DAG Ventures being the two most prominent industry names. 
This article will review one of Yelp's famous pitch decks that industry experts rate as the benchmark for aspiring entrepreneurs to follow. 
Slide 1: About Yelp
The ABOUT slide in Yelp's funding deck is divided into four sections. 
One section is the bar graph that shows consistent growth of the company's revenue and EBITDA. 
The other section on the right-hand side is the quick round-up of Yelp — What is Yelp, Where is Its Headquarters, Who Are Its Founders, and more. 
The third section on the left-hand side put forth Yelp's core values. 
And, finally, the section on the bottom right-hand side is reserved for the company's mission and vision statements. 
Download Yelp's Original Pitch Deck Template
Slide 2: Showcasing Yelp's Impressive Growth
This slide aims to show the investor the tremendous growth of Yelp. 
The impressive growth is illustrated through three parameters. First in terms of Financials (in MM), second in Business Metrics, and last, Engagement Metrics (in MM). 
Therefore, this slide is data-driven and has the uncanny ability to draw the attention of all the potential investors in the room. 
Download Yelp's Original Pitch Deck Template
Slide 3: Market Opportunity of Yelp
The market opportunity can make or break a slide in any pitch deck because this is something investors mull over when deciding whether to invest or not. 
This is why we say Yelp has made this slide convincing by putting forth numbers such as there are about 20+ Million Local Business Locations in the US.   
The slide mentions the estimated US local advertising spending and has a pie graph to explain this in detail. 
All these numbers leave a deep impression in the minds of potential investors that there is an ocean of opportunity for Yelp to dive in. 
Download Yelp's Original Pitch Deck Template
Slide 4: The Progressive Online Shift
The slide communicates the message of progressive industry shift at an online scale. 
Today, the Encyclopedia has shifted to Wikipedia, Directories to Yelp, Classifieds to Craigslist, and Network Television to YouTube. 
Download Yelp's Original Pitch Deck Template
Slide 5: High-Quality Content Growth of Yelp
The slide mainly has a bar graph to showcase that highly relevant customer cumulative reviews have progressively increased from December 2011 to December 2015. 
Download Yelp's Original Pitch Deck Template
Slide 6: Local Advertising Elements Associated to Yelp
The slide in this investor deck rounds up the essential advertising elements associated with the Yelp platform. 
These include a call-to-action, image slideshow, etc. 
Download Yelp's Original Pitch Deck Template
Slide 7: Showcasing Impressive ROI of Local Advertisements 
To throw weight behind the need for Yelp in the market, they have come up with a bar graph in their investor presentation. 
The graph illustrates that the Projected Monthly Revenue From Ad-Driven Leads is Approximately Four Times the Average Monthly Spending on CPC and CPM ads. 
Download Yelp's Original Pitch Deck Template
Slide 8: Growth Drivers of Local Advertising Revenue
This slide makes the prospective investors aware of the key growth drivers of local advertising revenues.
Yelp mentions three key growth drivers. 
First is the Recurring Revenues Through for existing revenues and retained revenues. 
Second is the Advertisements Delivery — investor levels and advertisement performance. 
And, last is New Revenue Generated Through — number of salespeople and attainment of quota.
Download Yelp's Original Pitch Deck Template
Slide 9: Financial Performance of Yelp
This slide is meant to gain the trust of angel investors and venture capitalists. 
The bar graph presents a comprehensive overview of how incredibly the financial numbers of Yelp in terms of net revenue and EBITDA have upscaled between 2011 and 2015. This suggests that local advertisers and users are embracing the concept of Yelp. 
Download Yelp's Original Pitch Deck Template
Slide 10: Long-Term Financial Targets of Yelp
The long-term financial targets of Yelp are engagingly demonstrated to the potential investors. 
For instance, Yelp says its spending on Sales and Marketing (as a percentage of revenue) was 62.5% in FY2012, then 56.6% in FY2013, and 54.9% in FY2015. The company targets Sales and Marketing expenses between 43 to 44%.
Download Yelp's Original Pitch Deck Template
Slide 11: Investment Highlights of the Yelp Platform
This slide in Yelp's investor deck caters to details about the investment highlights of the Yelp platform.
These highlights include:-
Huge Addressable Market Opportunity

High-Quality User Generated Content is Competitive Advantage

Recurring Revenue Base Generating Operating Leverage

Strong Balance Sheet and Cash Flow
The icons are relevant to their respective subheadings, and the overall appeal of this slide is simple yet impactful.
Download Yelp's Original Pitch Deck Template
Slide 12: Annual Adjusted EBITDA Reconciliation
Earnings Before Interest, Taxes, Depreciation, and EBITDA is a widely trusted metric to gauge a company's operating performance. 
It is also a valuable formula for any business with long-term growth potential seeking investors, as scaling EBITDA suggests its long-term profitability and ability to pay off future financing. 
In addition, EBITDA is an analysis for determining a company's health. 
So, to make a strong statement in a room thronged with investors, Yelp has included the EBITDA slide as it depicts the company's progressive future. 
Download Yelp's Original Pitch Deck Template
Slide 13: Essential Features of Yelp Platform
Coming to almost the end of this presentation, Yelp has a stunning feature slide. 
Rather than making the slide text-heavy, Yelp has included snaps of their Apps that illustrate the features such as Focusing on Transaction in Search and Photos Auto Categorization. 
Download Yelp's Original Pitch Deck Template
Slide 14: Business Categories
This slide is straightforward, having a pie graph that puts forth all the different business categories listed on Yelp, along with their percentage share. 
The popular business categories include travel and hotel, auto, home local service, art, entertainment & events, and more. 
Download Yelp's Original Pitch Deck Template
Download Yelp's Original Pitch Deck That Fueled Company's Incredible Success Story
Get the editable Yelp invest deck and pitch your idea with great confidence. 
You can ask for a FREE demo to understand in detail what's included in this presentation. 
It's not the moment to think or rethink; sign-up on SlideTeam, for $49.99 and get ten presentations for free. 
If you have any queries, feel free to write to us at [email protected]