The SlideTeam Blog
All About PowerPoint, Presentations & Life
What is an Experiential Retail Store?
Modern definition of retail stores states that they provide a physical & physiological experience to the customers. Services offered in an experiential store are beyond the offerings provided by a traditional one. Here the store allows customers to use the product, try it using dressing rooms, learn about its usage and features from staff, and much more.
Henceforth, take notes from this handy blog if you are looking to build one such experiential retail store for your business. Get to know about all the essential strategies in constructing one such store and grab our ready-made deck that exhibits every bit of vital components.
How Experiential Retail is Changing the Customer Experience?
Nowadays, customers look for a memorable experience at a retail store. Moreover, experiential retail strategy aids the retailers in influencing the buying behavior of customers & at the same time, this technology allows them to connect with customers in a more immersive manner.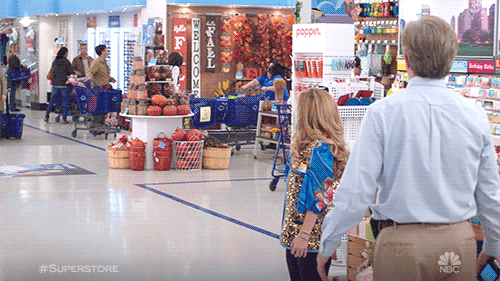 Additionally, as and when a customer steps into a retail store, they want individual attention from the staff. Thus, these retail stores are designed to engage customers in learning more about products & provide personalized services to them.
Top 5 Experiential Retail Strategies to Meet Changing Expectations
Ultimate purpose of any retail store is to provide customer's requirement in a more practical manner. Additionally, some tips to keep in mind while building a competent experiential store. It must ensure repeat customers to the experiential retail store who appreciate product knowledge for their good use.
Key strategies for an experiential retail store to meet the ever-changing & dynamic expectations of the customers are as follows:
Keep the store clean and make it kid-friendly at the same time
Provide rewards & recognition to repeat customers/regulars
Work on store design, product quality, appearance & atmosphere of the store
Train the staff about all operational guidelines
Indulge in live interactions with customers & personalize the experience for them
Best PowerPoint Template on Experiential Retail Strategy
Experiential retail stores offer customers/clients additional features of browsing the product instead of buying them. Our ready-made set of templates provides information on all the vital components in building a competent strategy.
Additionally, the presentation template exhibits information for developing efficient strategies to enhance retail store experience, parameters associated with retail stores, etc. Book a free demo with our research team & grab this 100% editable template for your experiential retail store.
Essential Aspects Related to Experiential Retail Strategy
There are a lot of aspects to be kept in mind when deciding upon a delightful experience for customers at retail stores. A perfect experience involves a combination of all those activities that give people reason to go to the store and spend time with the brand. It is not necessary that the customers have to buy things from retail stores.
Henceforth, all those vital and effective elements that need to be considered while planning for an experiential retail store are discussed below. Take a look at those highlights carefully, and don't forget to include them while building an experiential retail store of your own.
# The Cover Slide
The competent PowerPoint template is useful in presenting unique experiential retail store environments. Moreover, it shows details for enhancing the experience of physical stores and retaining customer share. The deck has a remarkable cover page that is going to grab the viewer's attention in no time. Additionally, it displays the company's name for which an efficient experiential strategy is prepared.
# Current Scenario Assessment
First phase in presenting an effective experiential retail strategy is providing details for the challenges faced by retailers, addressing in-store purchase drivers, or the overall current scenario. Various challenges associated with on-demand consumer characteristics are demand for instant gratification, shoppers preferring higher personalization, demand for experiential environments, etc. Likewise, one of the major concerns in retail stores is the rise in connectivity due to increased awareness among consumers who have become more demanding and value-conscious.
Consequently, there are a lot of reasons why millennial's visit stores. Statistics show that 77% of customers visit stores because a new retail store opens near them, 56% visit due to the availability of entertainment or food options, etc. Furthermore, rendering an in-store experience will cater to more sales & customers.
The template also illustrates different technological advancement trends in terms of usage of social network services, data analytics, shopping experience digitization, internet of things, diversification in payment methods, etc.
# Retail Environment
Second section of the PowerPoint template showcases details for the retail environment that present information for in-store experience value and prioritization of sensory value in retail. The retail store mix combines the in-store experience, brand, and customer. Brand has its own identity value, retail store experience includes service and environment, whereas customer has its own personality/self-image and expectations. Additionally, the environment plays a vital role in value creation as it acts as a brand communication tool. Also, environmental factors trigger the customer experience through interactive displays, customization stations, & scents.
Furthermore, five essential elements associated with experiential retailing are sense, feel, think, act, & relate. The slide even shows statistics for the percentage of people who consider these senses vital while making decisions & % the spending of retailers. Experiential value also determines the rise in sensory value associated with the customer's experience of utilizing a product or service.
# Developing Shopping Experiencing at Retail Store
Creating a customized shopping experience at a retail store is no more a tough job for the big stores now. This comes as the third essential section covered in the template on experiential retail strategy. It presents information regarding the development of shopping experiences at retail stores in terms of connected shopping experiences & curated shopping experiences.
Connected shoppers are tech-savvy & stay connected with preferred brands on the retailer's website or mobile application. They push notifications and customized emails to ensure that customers are consistently informed about the brand's latest updates. Also, the shoppers seek a connected experience across all the channels.
Whereas curated shoppers put minimum effort while product purchasing & use a subscription model to address beneficial products. Moreover, it customizes future deliveries by utilizing the insights & requires the assistance of retailers in rendering suitable options based on past purchase history or preferences.
# Critical Parameters Associated to Store Visit
Successive section displayed in the template provides details for the parameters associated with store visits. It illustrates factors influencing a customer's decision to visit a store and the points of consideration affecting the customer's decision to visit the store. Some of the most popular factors that influence a customer's decision to visit a store include transport, customer, retail, and product & design factors. The slide exhibits key highlights for all the above factors to justify how they influence a customer's decision.
Furthermore, various points of consideration that affect a customer's decision to visit a store can be related to social motives for the customer, store graphics, product availability, etc. Also, the availability of store clerks for assistance & service like babysitting is considered factors under store graphics. Likewise, social motives for customers can be planned or spontaneous visits, proximity to stores, etc.
# Leveraging In Store Experience
Next essential component covered in the template includes details for leveraging the in-store experience. It displays essential strategies in enhancing overall store experience, shifting retail experience from traditional store to modern store, and brand loyalty programs to ensure positive in-store experience. In order to enhance the overall store experience, essential strategies implemented are store design, information clarity, and ensuring a better store experience. Many clients visit stores & require that type of service, so their products get delivered home.
Additionally, three pillars of traditional stores used to be range, price, and proximity. And the store of the future has four vital elements such as experiential, social, friction-less, & curated. Physical stores need to develop notable experiences which cannot be replicated online. Also, build friction-less online to offline (O2O) interaction. Moreover, it emerges as a place where clients can learn, co-work, socialize, & experiment with new and innovative products.
Retail stores are introducing loyalty programs to reward loyal customers that frequently engage with brands. This strategy ensures continuous business growth and positive WOM. Loyalty program rewards include birthday gifts, reward points, free custom makeovers, and flash 2-day shipping on all orders.
# Innovating Retail Business for Future
Highly competitive retail space emerges as new experiences in terms of community, curation, and personalization. The sixth section in the template presents information for future innovations to transform the retail experience, ways to ensure a seamless shopping experience at retail stores, and strategies that focus on data-driven retail for valuable shopper insights. To transform the retail experience, some essential future innovations are collaborating with financial institutions, making co-working retail space accessible to the public with desks, foods, & shopping, and implementing sustainable initiatives.
Furthermore, for a seamless shopping experience, focus on customer relationship management by rendering online convenience at stores with a high level of curation, use AI in automating retail stores by implementing automated kiosks & linking them to social media sites in delivering services, enable peer-to-peer marketing by utilizing survey app to enhance brand advocacy and new customer outreach.
Additionally, for valuable shopper insights, focus on in-store analytics as retailers can utilize data and retrieve valuable insights & render innovative seamless shopping options, and design avatars for shopper interaction as digital agents can be used in complimenting, giving demonstrations, etc. Also, focus on a sustainable & efficient supply chain for local grading & refurbishing of goods.
# Budget Analysis
Analysis of budget for experiential retail strategy covers information related to suitable retail store management solutions, staff re-skilling training schedule, budget analysis for technological advancements to functional areas, etc. Additionally, the budget section provides information regarding selecting suitable retail store management solutions with various features such as in-store analysis, CRM, advanced payment options, customer activities mapping, etc.
Moreover, budget analysis for technological advancement displays a table that exhibits details for various functional areas, software, cost of implementation, duration, etc. Key functional areas included in the slide are CRM, AI-aided customer experience, digital agents, in-store digital displays, centralized product handling system, etc.
# Impact Assessment
To enhance the overall retail experience, retail stores need to perform impact assessments that can delight customers. The four major parameters discussed in the template are improved customer interactions, treatment of customers, following up, and encouraging sustainable initiatives. Also, one can present the strategies & benefits of each parameter to the firm in the slide as mentioned in the table. Thanking customers through handwritten notes on invoices is one strategy to treat customers to enhance the overall retail experience. Its benefit to firms is that it aids in building loyalty towards their retail store.
# Dashboard Assessment
Last section in the experiential retail strategy template is devoted to dashboard assessment for tracking retail store activities in terms of customer retention, rate of return, volume sales, etc. Moreover, one can present details for tracking essential retail store activities such as 5.36% average back-order rate, $362.17 total volume sales, 32.8% customer retention rate (90-days), etc. Also, you can showcase details like, 27.2% rate of return, monthly bar charts for the number of new and returning customers, bar charts for displaying rate of return (in %) by category, etc.
Download this Ready-Made Set of Template from SlideTeam
This experiential retail strategy set of template builds a valuable retail store environment by enhancing the experience of physical stores & retaining customer share. It will address various strategies for implementing experiential retail consumption & address future innovations in the retail business.
Finding it difficult to prepare an insightful retail store template? Don't worry at all! Grab our set of ready-made templates & edit them according to your requirements.
Book a free demo with our research team & take their assistance to prepare for the best.
PS: Want to read about good ways to generate quality B2B leads? Follow the link!