The SlideTeam Blog
All About PowerPoint, Presentations & Life
Draft a compelling film production company profile & learn about its role for stakeholders in this blog. You can even customize our company profile but first, read out what it is all about.
What is the Need of a Company Profile for a Film Production House?
Production houses require considerable funds to make movies or other productions. Also, they need multiple resources at several sets & time intervals to manage their production. Moreover, a lot of skilled professionals are required for different roles to get one whole movie done.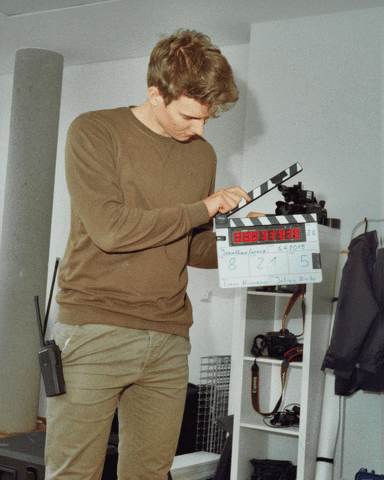 Henceforth, a comprehensive company profile displays & addresses every essential information related to the film production house, necessary fund requirements, new movie releases, etc. Additionally, it illustrates about the growth rate of the production house in terms of revenue, mission, vision, special services, portfolio, history, CSR activities done, financial comparisons, promotional strategies, etc.
Tear Down of Film Production Company Profile - Read the Vitals
Statistics show that around 800 to 1000 movies are produced worldwide from different production houses. All these international movies have variant genres, languages, ratings, and viewers depending upon the individual's interest. To stand alone & differentiated in the crowd, production houses keep themselves updated with the technology and viewers' preferences.
Furthermore, to display all the unique services they provide, production houses prepare a competent company profile that gives stakeholders an overview of their next move & past records.
Let's look at key components that must be considered while preparing a film production house company profile.
# Cover Page
Film production company profile is a professional description that aims to inform clients about service offerings, structure, resources, financial performance, etc. This comprehensive company profile will inform your stakeholders and viewers about your latest plans and releases.
Cover page for a film production company profile says much about the whole company. Furthermore, it has to align with the production company's theme, vision, mission, and objectives defined in its company brochures.
Besides, the main title, i.e., Film production company profile, also exhibits your company's name and illustrates an insightful image related to it.
# Executive Summary
Executive summary for a film production house company includes information about its facts, awards, achievements, key services, stats, founder details, etc. This slide covers an overview of the production house. It also provides details for key services such as cinema, visual effects, 3D virtual reality, music, etc. Moreover, the summary displays that the production house covers many genres of film production like motion pictures, documentaries, comedy, thriller, action, etc. Also, highlights that the production house company was nominated for an Oscar for best movie, golden globe awards, etc.
# Company Introduction
Production house's introduction in the company profile has to include details about its year of foundation, core values, headquarters, industry, languages working in, etc. Additionally, this slide presents the introduction of a film production company which illustrates some of the key core values like integrity, teamwork, the quest for excellence, innovation, recognition, authenticity, etc. Moreover, it showcases information and numbers for total employees working & growing with them, the number of production houses in a particular country or throughout the world, the year of foundation, multiple languages they produce the films, etc.
# Key Stats & Figures
Your film production company profile must include key figures, facts, and statistics related to your production house company. It gives stakeholders and viewers an impression about your past activities, growth, success, goals, etc. Henceforth, this slide showcases stats associated with the production house and includes:
Global box office collection
Revenue till date
Number of released movies
Average hours of production
Number of production crew members
Women employed in major behind-the-scenes roles, etc.
# Our Specialized Services
This slide in the company profile is also essential for stakeholders as it describes the services of your film production house. Key specialized services and their highlights vital to mention in the company profile are as follows:
TV, broadcasting & videos - Movies, TV series, commercials, video clips, etc.
3D virtual reality & multimedia - Video mapping, virtual simulations, computer graphics
Cinema & visual effects - Pre-production, sound stages, post-production, etc.
Music - Videoclips, recording, mixing, live events, mastering, etc.
# Pre & Post Production Facilities
All the interested parties, whether they are advertising partners, production houses, costume designers, or travel companies, are keen to know about your film production's pre and post facilities. Henceforth, mentioning details about your pre and post-production facilities in the company profile is vital. Take a look at some of the key facilities you can't miss mentioning in your production house company profile. They are as follows:
Pre-production facilities - Shoot location permits, identify cast members, production scheduling & budgeting, script writing, etc.
Production facilities - Shoot location setting, directing actors, set camera and lighting, motion picture recording, etc.
Post-production facilities - Video editing, video rendering, sound effects, special visual effects, audio mixing, etc.
# Profitable Business Model
Business model provides an overview about your film production house activities and essential elements related to day-to-day operations. This slide shows the business model of the company, which covers key highlights such as:
Key partners
Key activities
Value proposition
Key resources
Customer relationships
Customer segments
Channels
Revenue stream
Cost structure, etc.
# Our Production Houses & Advertising Partners
Include a world map in the production house company profile that will exhibit the location of your film house headquarters, advertising partners, & production houses. The undermentioned slide illustrates the location of production houses as well as advertising partners of the company across the United States. Likewise, one can download this ready-made company profile and personalize the content based on their requirements. Additionally, all this information is vital to other production houses and stakeholders who are willing to partner their services with your film house.
# Film Production House Portfolio
Production house portfolio contains every bit of information related to the latest documentaries, movies, web series, etc. Henceforth, the relevance of this component in the company profile directly affects the position of the film production house. Furthermore, it displays details on names, release date, OTT platforms details, IMDB score, etc., for each movie or web series. The film production house portfolio highlights these details for businesses, partners, viewers, and stakeholders.
# Blockbuster Movies with Rating
Ratings of a particular movie affect viewers and the market's psychology. While building your own production house company profile, one must take this into consideration by mentioning details about their blockbuster movies & their ratings. This slide will highlight the idea of presenting a list of blockbuster movies with ratings by critics & users. General facts that must be included in a film production company profile are the movie name, its banner, year of release, language, genre, star for ratings, etc.
# Upcoming Movies
While preparing a film production company profile, remember to mention details about your upcoming movies so that viewers and stakeholders are aware of your activities. This slide shows upcoming releases of a production company with key information such as their banner, movie name, type, release date, countries, rating, etc.
# Our Business Partners
This slide displays the film production company's strategic partnerships, including the partners' names. Moreover, the company profile must include names as well as regions of advertising companies, production houses, travel & logistic companies, costume designers, etc. Like, ABC marketing & advertising agency is based in the US, XYZ media works as a production house and is located in Romania, etc.
# Box Office Collection in Last Five Years
It becomes mandatory for a film production house to showcase details and stats related to their box office collection in the company profile. This slide represents the collection of production houses in the last five years, from 2018 to 2022. Additionally, our ready-made company profile has displayed details for the box office collection of different houses using a bar chart. Also, mention details of the year that made the maximum collection, yearly collection growth rate, etc.
# SWOT Analysis
To evaluate the competitive position of the production house, the company profile must include a SWOT analysis for stakeholders and other internal parties. This slide focuses on strengths, weaknesses, opportunities, and threats, which includes the following key points from all four components:
Strengths - Offers films in multiple languages (English, French, etc.), diverse services such as broadcasting, visual effects, etc.
Weaknesses - High dependency on the United States, lack of promotional and marketing efforts.
Opportunities - Tie ups with advertisement & transportation companies, projected 12% industry growth rate by 2030.
Threats - Emerging film industry competitors, changes in viewers' tastes, economic downturn, etc.
Conclusion
The competent company profile covers the film production house portfolio, blockbuster movies, upcoming releases, and awards & recognitions. Furthermore, it focuses on details about your business partners and box office performance.
Take assistance from our highly skilled and experienced research team while preparing one such efficient company profile of your production house.
They will guide you about the trending elements related to film production company profiles.
Book a free demo with us now!
P.S.: Read more such comprehensive blogs related to playbooks, priority decks, pitch decks, etc. on our website.